Why Belarus Stands Out Among
Other IT Outsourcing Destinations
Indeed, Belarus stands out among other IT outsource destinations, and we have already proved in on Medium not so long time ago. How it affects U.S. tech shortage? Find out here or save time and go through this infographics to get to know Belarus as an IT Outsourcing location better. 
Are you in San Francisco on March 8, 2017? Then you have a chance to join our Meetup on SmartSourcing where IT professionals  – company founders, executives and investors – will explain How to Do Outsourcing Right.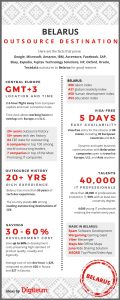 Join our San Francisco Meetup on SmartSourcing (March 8, 2017) and find our the benefits of working with Belarus as an outstanding IT outsourcing destination for your project or company.